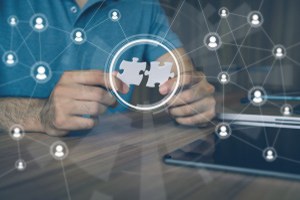 Digital KYC
Eurospider developed a new compliance platform for its partner, KYC Spider, which completely reorganized its processes in line with Industry 4.0 (www.kyc.ch). Networking, information transparency, assistance systems and automated decisions revolutionize the Compliance Factory process.
KYC Toolbox
The KYC Toolbox is a toolbox used by the Compliance Officer for simple, intelligent and secure verification of persons and organizations, as well as to assess and categorize the risk of your customer relationships. Thanks to intelligent assistant systems, the toolbox boasts a high level of automation.
KYC Expert
With KYC Expert, KYC Spider works as your partner and reliably and expertly takes charge of your compliance process. This begins with the compliance concept, meaning the directives on combating money laundering and terrorist financing, which are used to set the parameters for the KYC Toolbox. At the end of the compliance process, you will have complete and accurate compliance files for your customers.