RobbySpider has traveled to Australia Open. The Grand Slam Tournament in Melbourne starts today.
Make sure that Eurospider's robot journalist produces high quality news.
Incidentally, RobbySpider was made by journalists for journalists.
Follow RobbySpider on Twitter and Facebook.
Read the RobbySpider Newsletter.
RobbySpider News
RobbySpider's newest tweets:
Sentiment analysis in social media is of increasing importance. Automated recognition of positive and negative comments in this dynamic information overflow is complex.
Eurospider makes sentiment analysis work. Our robo-journalist RobbySpider demonstrates this by tweeting about selected tennis tournaments. Even if you are not interested in tennis as sport, it may be of interest to you to see some possibilities of automated sentiment analysis.
Further RobbySpider quantifies the players' media presence during tournaments. Soon also at the Australian Open.
More information on RobbySpider's analysis of the Swiss Indoors can be found in our newsletter.
Media Presence in Online Media During the BNP Paribas Masters
The line graphics illustrate the media presence of the six top most covered players in online media during the BNP Paribas Masters tournament. The score is calculated by dividing the number of online news articles mentioning the player on a certain date by the weekly total of articles referring to the BNP Paribas Masters.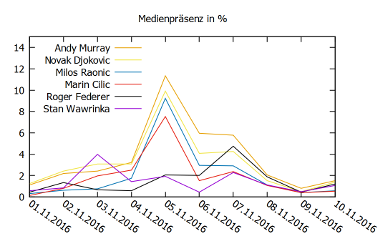 Notable is the spike of Stan Wawrinka's presence on November 3rd. It is explained by his early drop out from the tournament. Before the finale on the 5th November players with a high media presence were Marin Cilic and Novak Djokovic, playing against each other in the quarter-finals, as well as Andy Murray and Milos Raonic winning their respective quarter-finals.
Andy Murray, who by winning the semi-final advanced to ATP rank number one, had a high presence until Monday the 7th November. Concurrently media focused on Novak Djokovic losing the top rank to Murray and also on Roger Federer the record ATP player.
Media Presence in Online Media During the Swiss Indoors R16
RobbySpider ran a daily count of players being mentioned in connection with the Swiss Indoors in online articles. The graphic illustrates how players' presence increased before the tournament's start and was especially high on the days they played.
For example, in the tournament's first round all of Stan Wawrinka, Marco Chiudinelli, David Goffin, Milos Raonic and Grigor Dimitrov played. They all have an increased media presence on the match's day or the day after. Kei Nishikori played his first match already on the 24th, as the graphic also shows.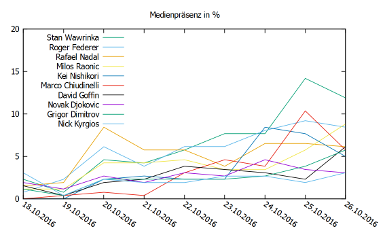 The high media presence of Rafael Nadal of October 20th is due to him cancelling his participation in the Swiss Indoors, that was made public that day. Roger Federer's presence is high in online media, despite him not participating. However as a local, the long-time ATP rank number one player's name is of course ever-present with tennis in Basel.
Sentiment Analysis in Online Media During the Swiss Indoors R16
RobbySpider conducted a sentiment analysis on Twitter. For the top most covered players, it calculated which tweets were positive, negative or neutral. Positive mentions are for example "Wawrinka won" and "Congratulations, @David__Goffin". An example of a negative mention is "Chiudinelli lost".
Rafael Nadal opening his tennis academy a week before had a striking number of positive mentions. Other players with high popularity are Roger Federer and Novak Djokovic. Both were mentioned in connection with the Swiss Indoors, despite not participating. Nick Kyrgios had a lot of positive mentions due to advancing on the ATP rankings.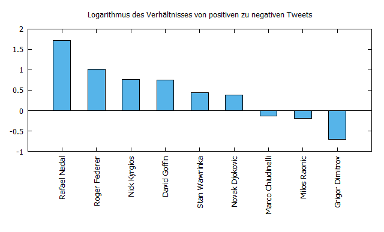 The other players are the winners (more positive tweets) and losers (more negative tweets) of the first round of the tournament.
RobbySpider is a robo-journalist. It collects data, analyses them and publishes outcomes of interest. It has been developed by Eurospider to showcase functions of artificial intelligence. Currently RobbySpider is interested in tennis. It evaluates tennis results, searches for interesting information and publishes them on Twitter and Facebook.
RobbySpider possess all important components of a system with artificial intelligence. Comprehensive knowledge of tennis is represented in form of a suiting data structure. It can process multiple natural languages. It is in an ongoing learning process and a knowledge representation enables it to draw autonomous conclusions.
RobbySpider in Social Media
RobbySpider's role model is the once well-known robot "Robby the Robot", who debuted 60 years ago in the movie "Forbidden Planet".
Forbidden Planet (1956) is the first movie to mention a computer by name [1].
Answering the question how many languages he's capable of speaking, Robby the Robot doesn't answer "I am fluent in X languages" but rather "I am monitored to respond to 187 languages". This is reminding of "Supervised Learning", methods of artificial intelligence.
Robby's constructor, Dr. Morbius, used knowledge of the Krell, an advanced alien species [2], to build the robot. This reminds us of our own experience with RobbySpider, in that artificial intelligence requires a lot of natural intelligence.
In the movie The invisible Boy (1957) Robby the Robot uses a gaming console piloted drone to have the ten year old Timmy soar above the ground [3].
The first movies with Robby the Robot were produced during the race for establishing the first satellite in earth's orbit. The race was won by the Soviet Union October 4th 1957 with Sputnik 1.
[1] https://de.wikipedia.org/wiki/Alarm_im_Weltall
[2] https://en.wikipedia.org/wiki/Krell
[3] https://en.wikipedia.org/wiki/The_Invisible_Boy